The cold wave caused by the Filomena squall has caused exceptionally low temperatures in single-family homes and homeowners' associations, with water and electricity cuts, snow falling from roofs, trees falling…
And one of the most recurring problems that is occurring in homes is to keep the house at the right temperature, and that the water or electricity supply is not cut off.
In these exceptional moments of cold, it is important to avoid freezing of the pipes, and to know what to do if they freeze.
How to prevent pipes from freezing in the cold:
The most important thing is to always have water reserves in case the water supply of our community or home is affected.
To prevent the plumbing in our home from freezing, it is necessary to use materials that prevent it from getting cold. It will be necessary to cover the pipes that surround the meter, (and to protect the meter also) with thermal insulating materials, as it can be the fiberglass.
If you do not have access to this type of materials or to a professional who can make this thermal insulation, you can make a provisional one with crumpled newspaper inside the water meter, and around the pipes.
Another solution is to have the faucet constantly open with a trickle of water. This way, you will have the plumbing in constant movement, making it much more difficult for the water to freeze.
And remember, if you are going to leave your home for a long period of time during the cold snap, you will have to close the stopcock and drain the remaining water to prevent it from freezing.
Prevention is very important in this type of cases when the temperature is below 0 degrees, because if the pipes get too cold and freeze, they could burst when you try to use them normally or thaw them in the wrong way.
The city council of Madrid already indicated on twitter a series of necessary measures until these low temperatures pass:
If you have central heating, don't turn it off at night. Keep it on all day at a constant temperature
It's important to keep heat inside homes, so it can help to have the blinds down to retain it.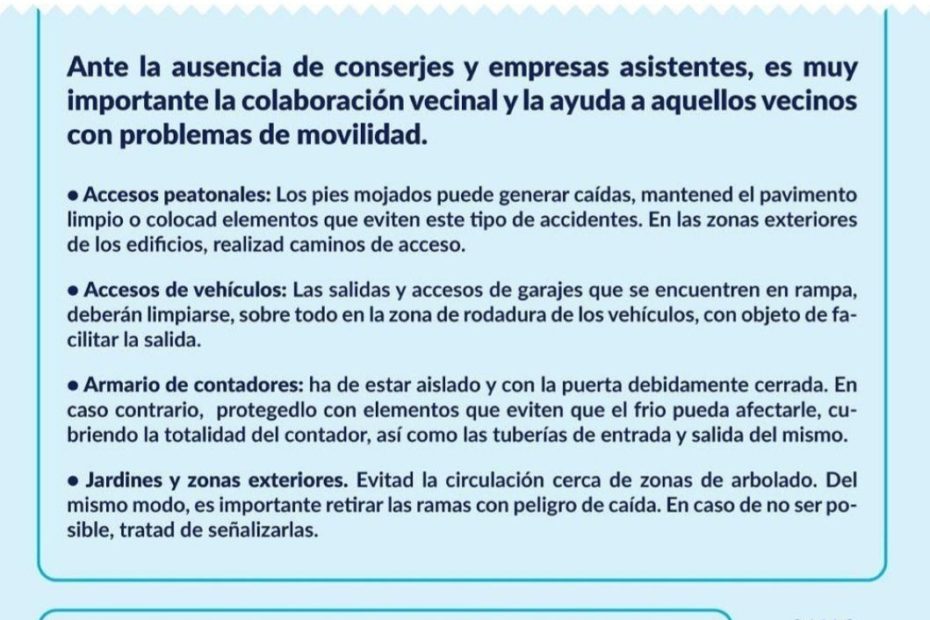 And what to do if they have already frozen?
The most important thing is not to try to thaw them with hot water, as this is the most frequent reason for them to explode.
First, you will have to close the stopcock.
Then you should apply dry heat, for example, with a hair dryer.
Try little by little, and never turn on the tap with hot water.
And here the only trick is to be patient and wait. Apply dry heat directly to the pipes that are affected, and try very gently to open the water flow again.
In addition to all the above tips, the Canal de Isabel II has left some indications on its website for this type of cases, also leaving at the disposal of users who suffer this type of incidents, repair personnel to try to restore supplies in the shortest possible time.
From Supervecina we can help you with free and instant quotes for any damage that your home or community of owners suffer from this storm.